Let's begin by BUSTING the MYTH of SPF.
SPF simply means "sun protection factor" and should not be the only thing to look at when looking for a sunscreen. In fact, it probably should be the LAST thing to consider! I know this goes against the grain with some of us, but truthfully, SPF is not NEAR as important as the active ingredient!
If you have a SPF 50 sunscreen that is based on a chemical, then you are getting a false sense of protection, and your skin is absorbing all the harmful rays of the sun. These chemicals numb the top layer of skin cells, so you can't feel the burn you're getting!! This in turn promotes cancer, premature aging and brown spots (hyper pigmentation) on the skin.
You must have a physical sunscreen, one with Zinc Oxide or Titanium Dioxide, which reflect the sun's rays off the skin, while a chemical sunscreen on the skin absorbs the sun's rays. See the difference?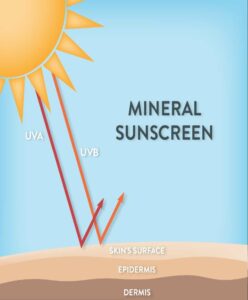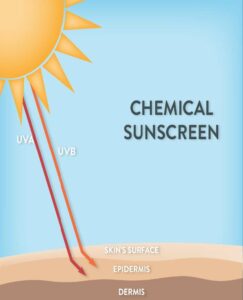 An SPF 8 of a proper sunscreen (Zinc or Titanium) is FAR SUPERIOR than a SPF 80 of a chemical sunscreen.
We offer several great sunscreens. We have spray's, lotions or even in powder form. Our number one seller Prime & Defend, is a wonderful sunscreen with a 'hint of tint' so you won't have to wear make-up to the beach if you don't want! And Coral Safe is economical and great for the whole family and all have TRUE sun protection!
Our lines include, Société's Prime & Defend, CosMedix's Reflect, Coral Safe in a spray or lotion (and Coral Safe is safe for the beach & ocean environment as well) and LaBella Mineral Sunscreen in powder form.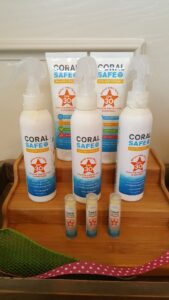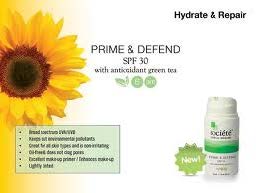 We hope you'll come by soon to check out our awesome sunscreens knowing you'll be getting the best sun protection!
GENERAL INFORMATION
We carry exclusively CosMedix & Société Skincare lines. Both are chirally correct, free of harsh chemicals, containing no parabens, no dyes, no chemical irritation – only high potency vitamins, minerals & antioxidants that change the physiology of the skin.
Skincare products are recommended to support our professional services at home.